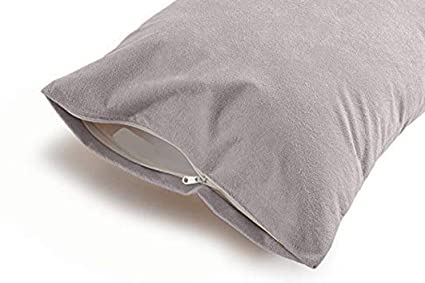 When it comes to the topic of the maintenance of your bedding, most people concentrate on the pillows and their coverings. Nonetheless, there is a crucial piece in your bedding collection that can expand the lifetime and functionality of any pillow; a pillow protector. The material with which these pillow protectors are made can be diversified.
The material can be normal cotton, silk cotton, silk, resin and many more but nothing can give you more comfort than a terry cotton pillow protector. The advantages of a terry cotton pillow protector can not be described in words. These pillow protectors can help you to make a barrier against any discomforts and offer you sound sleep.
Here in this article, we are interpreting the foremost merits of terry cotton pillow protectors in India. But before that, it's necessary to know what is a pillow protector.


Pillow Covers
Terry cotton pillow protectors or covers are none other than special coverings made with terry cotton, especially used to make a boundary against any damage and split in the pillows. It can protect the pillows from any tints or moisture. As we indicated before that the material with which these coverings are prepared, can be different as per their functionality.


Pillow protectors not only prevent damages but also keep the surface of the pillows clean and stain-free. Pillowcases also offer the same conveniences but pillowcases are required to be changed in a week while pillow coverings can be rinsed in a month. Apart from these, the pillow protectors can offer an ample range of benefits that can leave you amazed.

Keep Pillows Pollutant-Free
The primary benefit of pillow protectors is they keep your pillows free from any contamination. The utilization of hypoallergenic pillows helps you to get an allergen-free sleep. Therefore, if you add terry cotton pillow protectors to your pillows, it can increase the layer of protection against any contamination.
Any kind of pillow protector can act as an additional layer of protection against dirt, moulds, mildews, stains, small pollutants and many other allergy-causing components. If you are experiencing serious allergy symptoms, do combine a hypoallergenic pillow, a terry cotton pillow protector and pesticide-free pillowcases to curtail any kind of dermatological problems.


Give Pillows Safety Against Any Damage
If you purchase authentic pillow protectors from any reputed terry cotton pillow protector supplier, it can give your pillows immense safety against any kind of damage. It's undeniable that our pillows play a pivotal role in getting quality sleep and sleep is very important to get a healthy lifestyle.


We spend almost 8 hours a day with our bedding, so it's significant to use high-end bedding equipment to make your sleep healthy. If a pillow protector is added to any pillow, it would protect the pillows from any damage or deterioration. A pillow protector can also prevent fading away of the pillow, and flattening of the pillows over time.


Prevent The Pillows From Deterioration
A pillow protector can not only prevent any damage to the pillows but also impede the shape deterioration of pillows. If pillows are used for years, they can be flattened and feathers can come out from them. But when you use a pillow protector, its chain wrap characteristic can't allow the onside feathers or cotton strides to be spread and make any place contaminated.


Prevent Odour
A pillow protector can also help you to avert any awful odour due to the absorption of make-up, lotion or any type of spills.


Therefore, follow our guide and enhance the quality of your sleep by adding a pillow protector to the pillows.